3D+
Automated 2D and 3D structural drawings using the most comprehensive AutoCAD based modelling system for Structural Engineers.
Within 3D+ a single model is created from either the extensive library of structural objects, or provided automatically from integrating design solutions. From this 3D model, 2D drawings such as floor plans, sections, details and 3D views etc. can be created automatically. 3D+ handles all forms of construction and material types.
Changes to schemes are no longer a problem - simply alter the 3D+ model and drawings can be revised in a matter of minutes and, with a comprehensive revision management tool, all the changes can be tracked electronically, saving potential hours of investigation work!
3D+ offers you improved speed and accuracy of drawing production, whilst sharing data within your organisation or your project team more efficiently than ever before, reducing your workload, and hence saving you time and money.
Modelling
Using AutoCAD's tools for setting out, view manipulation and drawing management etc. 3D+ is the obvious choice for all technicians and engineers already familiar with the AutoCAD environment.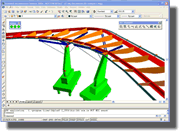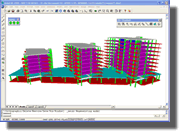 Support for curved gridlines.
Import 2D and 3D drawings from the architect or client to help create your model.
Create structural elements in any material, including steel, timber and concrete from extensive data libraries for UK and international sections.
Create unique shape elements including tapered members and specialist steel members such as plate girder and cellular construction.
Updated Westok modelling (including curved beams).
Create walls, slabs and foundations in all material types as easily as drawing lines.
Create monolithic construction in particular for in situ concrete construction such as rib slab, flat slab etc.
Use parametric data to redefine the geometry of your structure time and time again.
Drawing Generation
The fundamental principle and still the major benefit of 3D+ is that from one model (the graphical database of structural information), all drawings are automatically created and linked with the model. Changes to schemes are no longer a problem.
Automatically create all 2D drawings, plans, sections, elevations and 3D views, with all details dimensioned and annotated in DWG format.
Automatic update of all drawings if the model is amended.
All drawings created with true hidden line detail.
Layering standards can be configured to match individual company standards such as BS1192.
Representation of elements can be illustrated as solid, single line, dotted, or not shown, to demonstrate the structural scheme clearly.
Drawing Management as per existing company methods.
Report Generator enabling material lists to be created
Revision Control
In addition to the powerful drawing creation capability, 3D+ then helps control and manage revisions to the model and associated drawings, dramatically reducing errors and workload.
Issue models as well as drawings allowing you to compare any two issues (models) and create detailed revision histories.
Automatic placement of revision clouds placed on all required views.
Verification tools - import amended models from structural design, architect and steelwork contractor then verify the differences before updating. Examine deleted or modified members etc.
Compare issues - for example, investigate the changes between issue B and issue D with an itemised factual report of the changes that occurred.
Integration
3D+ has unprecedented levels of integration - from structural analysis and design packages, to other AutoCAD or Architectural Desktop based modelling systems for architectural services and M & E.
Structural analysis and design data is managed simultaneously within the 3D+ objects. A separate analytical frame linked to the physical structure enables engineers to interpret structural analytical requirements separately where required.
Loading can be applied in the 3D+ model for integration with design tools.
Two-way integration with Fastrak Building Designer, S-Frame and others.
Model integration with other disciplines such as Architectural, M & E and Steelwork Fabricators.
NavisWorks® - direct links to NavisWorks for project review and co-ordination. (See below)
Architectural Desktop - two-way conversion of 3D+ objects to ADT structural objects.
Other file formats include CIS/2 and SDNF.
Komentarzy:
Skomentuj pierwszy